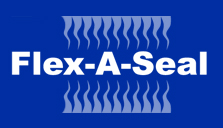 Flex-A-Seal
In the beginning
Flex-A-Seal, Inc. was started in December 1983 in Ormond Beach, Florida primarily as a welded metal bellows seal manufacturer dealing with a limited distributor base in the United States. After 30 years, Flex-A-Seal has two manufacturing facilities worldwide with sales agents and distributors in over 30 countries. Our current facilities include:
Essex Junction, Vermont with approximately 26,000 square feet and 100 employees

Sao Paulo, Brazil with approximately 12,000 square feet and 50 employees
Flex-A-Seal, Inc. is a true global corporation with comprehensive catalog of engineered sealing products for all your sealing requirements.
Flex-A-Seal Advantage
The core commitment at Flex-A-Seal, Inc. is to be at the forefront of our industry's technological advances. Our facilities contain state of the art bellows welding capabilities, CNC machining centers, quality control standards, and extensive inventory systems. We also offer seal repair capabilities to refurbish not only our seals, but our competitors' as well. In addition, we are successfully partnered with many distributors and agents both domestic and international, enabling us to furnish on-site consultations and assistance.
Our mission is to supply our customers and end users with products of the highest quality. We believe essential elements to this process are courteous and prompt quotations and customer service, quick and dependable deliveries, product training, informative literature and in-plant surveys, and skilled engineering support. We know by meeting these criteria, Flex-A-Seal will provide the correct sealing solutions for your needs, ensuring your company's success.
Flex-A-Seal Today
Flex-A-Seal is proud of the solid partnerships with our agents, distributors, and resellers in the field. We recognize these relationships are an integral part of our success and value the insights and dedication each member brings to our organization. In a global business climate that appears to eschew loyalty, we consider it a vital component of our business.
We are committed to keeping our customer's costs to a minimum without compromising our responsibilities to our employees or sacrificing our commitment to produce, market, and distribute our products using environmentally sound methods.