Munroe, Inc.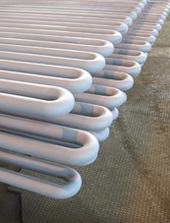 Munroe is a leading manufacturer of fabricated components for boilers in a wide range of demanding applications including superheaters, reheaters, economizers, membrane wall panels, heat exchangers and others including BOF and EAF hoods for the steel industry. Munroe's primary customers are in the power, petrochemical, pulp/paper, waste and steel industries. Their products perform beyond expectation in some of the most demanding and corrosive environments imaginable. What sets them apart and gives you an advantage is their ability to engineer and produce not just components, but solutions that seamlessly match your needs for quality, turnaround, reliable fit, performance and extended product life.
In a word, Munroe's manufacturing capability is "complete". Consider them your one-stop source for engineered and fabricated boiler and hood components. Whether its replacement or retrofit, regardless of type or OEM specs, they can assure you a proper fit. Their ability to produce high quality, tight radius bends is unmatched in the industry. By combining expert craftsmanship with modern bending technology and hot-forming techniques, Munroe can deliver the tightest radius bends while holding to the strictest tolerances.
Munroe is the industry leader in the fabrication of boiler components, water walls and other tubular elements for new boiler construction and replacement and retrofit components. They utilize the latest tube technologies and a singular focus on craftsmanship to provide customers with the most reliable products. They supply components to many OEMs and is an ideal and cost effective alternative for your replacement assemblies.